18187 Sapper
JOHN EWAN
Royal Engineers
by
Lieutenant Colonel Edward De Santis
Ó 2002. All Rights Reserved.
1. INTRODUCTION
Unless otherwise noted, the details supplied in this narrative were extracted from the soldier's service papers, original copies of which are in the author's collection. The full inventory of these documents is included in the REFERENCE section at the end of this narrative [1].
2. EARLY LIFE AND FAMILY INFORMATION
John Ewan was born at 11:00 a.m. on the 20th of September 1858 in the Parish of Glenmuick, near the Town of Ballater, in the County of Aberdeen, Scotland [2]. Ballater is a small town in the Royal Deeside parish of Glenmuick, Tullich and Glengairn in West Aberdeenshire [3]. Located on the River Dee in beautiful surroundings, Ballater is backed by the Grampian Mountains, rising on the north to the great mass of Morven, a peak rising 2,862 feet above sea level [4]. The town is located about 43 miles west of Aberdeen.
John's parents were Archibald Ewan, a Mason's Labourer, and his wife Anne (nee Reid). In the 1881 British Census the Ewan's address is listed as the House, Glenmuick Tullich and Glengairn, Aberdeen. Archibald Ewan was born in Glenmuick, Aberdeen in 1824. Anne Ewan also was born in Glenmuick in 1834. The Ewans had five other children in addition to John, three sons and two daughters, all born in Glenmuick. At the time of the 1881 British Census, James, age 21, and William, age 14, were both working as Mason's Labourers. The youngest son George, age 8, was a student, as were both daughters, Jessie, age 10 and Sarah, age 6.
John Ewan appears to have followed in father's footsteps as a Mason's Labourer at least until he was 19 years old. At that point either he or his father decided that just being a labourer was not to be his lot in life. On the 8th of December 1877 John Ewan signed a Letter of Indenture wherein he promised to work for a period of four years for the firm of John Burgess and Sons, Stone Masons, of Aboyne, Aberdeen, a town located about eleven miles east of Ballater. John's service was assured by his father and by a Journeyman Mason by the name of Alexander Donald who lived at 4 Cuparstone Row in Aberdeen Old Machar, Aberdeen. Apparently John Ewan had been studying under Alexander Donald for some time prior to entering into an Apprenticeship with John Burgess and Sons and it was probably Donald who introduced John Ewan to John Burgess and acted as his sponsor for the period of indentured service.
The following is a transcript of the original Letter of Indenture complete with all its cumbersome legal language and lack of punctuation [5]. It is presented here to illustrate what was required of an Apprentice under Scottish law in the late Victorian period.
It is Contracted and agreed upon between John Burgess & Sons, Masons, Aboyne on the one part John Ewen [6] (Son of Archibald Ewen, Labourer, Ballater) with the advice and consent of his Father the said Archibald Ewen and Alexander Donald, Mason, Ballater, and the said Archibald Ewen and Alexander Donald for themselves as Cautioners [7] and taking burden on themselves for the said John Ewen on the other part.
In manner following that is to say the said John Ewen, with the consent of the said Archibald Ewen and Alexander Donald and they jointly and severally oblige themselves that the said John Ewen shall serve the said John Burgess & Sons as an apprentice in their trade and employment of Masons as carried on by them at Aboyne and that for the space of four years from and after the seventh day of May 1877, years during which time the said John Ewen, Archibald Ewen and Alexander Donald bind and oblige themselves and their heirs and successors conjointly and severally that the said John Ewen shall serve the said John Burgess & Sons in their trade and employment of Masons, honestly, faithfully and diligently and at no time absent himself from the same without leave asked and obtained under the penalty of forfeiture of this indenture or in his Masters' option serving them two days at the expiry of his apprenticeship for each days' absence. That he shall conceal his Masters' secrets, prevent their loss, promote their interests to the utmost of his power and shall abstain from all vicious companions and immoral practices and from every exercise which may divert him from his Masters' service and further the said John Ewen, Archibald Ewen and Alexander Donald bind and oblige themselves conjointly and severally that the said John Ewen shall uphold himself in clothing wearing apparel, bed, board and lodgings suitable to one in his station during his apprenticeship and shall indemnify the said John Burgess & Sons for all loss, damage and expense to which may happen to be sustained or incurred by him through the default of the said John Ewen at any time during the said apprenticeship.
For which and on the other part the said John Burgess & Sons bind and oblige themselves not only to teach and instruct their said apprentice in the said trade and employment of a Mason as carried on by them during the foresaid space of four years and to conceal no part thereof from him in so far as they know and the said John Ewen is capable or willing to learn the same, but also the said John Burgess & Sons bind and oblige themselves to pay the said John Ewen seven shillings stg [8] per week for the first two years, eight shilling per week for the third year and nine shillings per week for the fourth year all of his apprenticeship, and lastly all parties bind and oblige themselves to perform the promises to each other under the penalty of not less than Ten Pounds Stg to be paid by the party failing to the party performing or willing to perform over and above performance.
And they consent to the registration hereof in the Book of Council and Session or any other competent Registrar.
In witness whereof these presents are written on this sheet of stamped paper by James Cooper residing in Aboyne and are subscribed by us before these witnesses on the 8th day of December 1877.

| | |
| --- | --- |
| Donald Farquharson, Witness [9] | John Burgess & Son |
| Alexander Ghow, Witness | John Ewan |
| James Ewan, Witness [10] | Alexander Donald |
| Robert Watt, Witness | Archibald Ewan |
The 1881 British Census shows that John Burgess was 57 years old and a Master Stone Builder. He had two sons working with him in his business; James, 31, and Adam, 21. Both were Masons. John Burgess also had a daughter Jane H., age 19, who appears to have been the housekeeper for the family. No wife is listed in the census, so it may be assumed that Mrs. Burgess was deceased. The Burgess family lived at Luten Cottages, Aboyne, Aberdeen with a domestic servant, one Bella Finch, age 15. Aboyne lies on the north side of the River Dee about 32 miles west of Aberdeen. The town is laid out with its grey granite buildings surrounding a large green. It was this granite that provided a livelihood for the Burgess family and in turn for the Ewan family.
Six miles outside of Aboyne there is an ancient stone circle. The large quarry behind the stone circle is probably where John Ewan worked. The quarry encroached on the ancient archeological site and most of the upright stones were toppled, with some even disappearing into quarry. In John Ewan's day, commerce was certainly looked upon with more importance than the preservation of some artifacts from a long vanished culture.
During the almost four years that John Ewan worked for Burgess and Sons he lived at Parkside Cottage in Birse, Aberdeen in the home of Alexander Simpson, aged 45, a General Labourer and probably a friend of John's father. Simpson's sister Majory, age 58, also lived at that address as housekeeper. The Simpsons had a second boarder named Peter Niven, age 22, who also was an Apprentice Mason and may have even worked for Burgess and Sons. The village of Birse was not more than a crossroad on the south side of the River Dee at the foot of Brown Hill in 1877 [11]. It lies by the Burn of Birse, which flows north to meet the River Dee near the village. Birse was located only about two miles to the southeast of Aboyne and was within walking distance for John Ewan to his job at Burgess and Sons.
John Ewan satisfactorily completed his period of service to Burgess and Sons earlier than required. The letter of indenture was prepared in December of 1877 and required a four-year period of service. In May of 1881, about seven months before the four years were to be completed, John Burgess signed the bottom of the letter of indenture with the following statement:
May 28, 1881. We hereby certify that the bearer John Ewen has fulfilled the engagements of this Indenture to the satisfaction of us.
John Burgess & Sons
It may be assumed that John Ewan continued to work for John Burgess and Sons until he decided to join the Army. He was still living with the Simpsons in 1881 and may have continued living with them as a boarder until his enlistment. At some point he decided that working as a Mason in civilian life was not for him and he thought he would try his luck in the Army. It is also possible that work was hard to find in the small highland communities of Ballater and Aboyne and he may have been forced to join the Army out of necessity. Living at home was probably not an option for him since his parents had a large family to care for and his father and two older brothers were also involved in the stone mason trade; hence, there might not have been sufficient work for all in the area.
At this point in the narrative it may be of interest to diverge from John Ewan's story to look at the economic situation in Aberdeenshire in 1881. There were two large Poor Houses in Aberdeen at the time; the City Poor House on Nelson Street, St. Nicholas, Aberdeen and the Old Machar Poor House at St. Machar Place, Aberdeen. In 1881 there were 381 inmates in the former and 207 inmates in the latter. The City Poor House cared for 86 people (39 men and 47 women) who were classified as "Lunatics." The Old Machar Poor House was home to 50 "Lunatics" (24 men and 26 women). Based on the Poor House statistics from the1881 British Census, only 6 men out of a total of 588 in both poor houses were in any way involved with stone mason or quarry work. These included one mason, one quarry labourer and four stone cutters/dressers, or about only 1 percent of the total number of inmates in both Poor Houses. It seems unlikely that lack of work forced John Ewan to join the Army [12]. Ironically, both Poor Houses were beautiful buildings constructed from the very granite taken from the Aberdeenshire quarries and are standing to this day.
3. PHYSICAL DESCRIPTION
The following is a description of John Ewan at the time he enlisted in the Army in 1883 [13]:
| | |
| --- | --- |
| Age: | 24 years |
| Height: | 5 feet 9½ inches |
| Complexion: | Fresh |
| Eyes: | Hazel |
| Hair: | Dark |
| Distinctive Marks: : | The letter "J" tattooed on the back of his left hand and a small mole on his left cheek. |
Although Ewan's service papers say nothing about his physical development, it may be assumed that it was good. He was a tall man for that time period, and as a Stone Mason he probably was well developed physically.
The following is a description of John Ewan at the time he was discharged from the Army in 1886. Except for his height, the description is identical to that when he enlisted.
| | |
| --- | --- |
| Age: | 26 years and 6 months |
| Height: | 5 feet 10½ [14] |
| Complexion: | Fresh |
| Eyes: | Hazel |
| Hair: : | Dark |
| Distinctive Marks: : | The letter "J" tattooed on the back of his left hand and a small mole on his left cheek. |
4. ENLISTMENT AND TRAINING
John Ewan attested for service in the Royal Engineers at Aberdeen on the 12th of October 1883. He enlisted for a period of 7 years with the Colours and 5 years in the Reserve [15]. Upon approval of his enlistment, Ewan was given Regimental Number 18187 and the rank of Sapper and was posted to Brompton Barracks in Chatham, Kent. At Chatham he underwent a period of just over a years training as an engineer soldier before being posted to a field unit [16].
5. ASSIGNMENTS AND CAMPAIGN SERVICE
Upon completion of his training at the School of Military Engineering at Chatham, Sapper Ewan was posted to the 24th Field Company at Shorncliffe, Kent in February of 1885. During the period of time that John Ewan was receiving his training at Brompton Barracks, trouble had been brewing in the Middle East. The year 1884 opened under great difficulties for the British Army of occupation in Egypt. Egypt included the Sudan, where the Egyptian government had been notorious for misrule, slave trading and remorseless exploitation. Coincidentally, at this very period, a self-styled "Messiah" or "Mahdi" had arisen to lead a "jihad" or holy war against the Egyptians. This man, Mohamed Ahmed by name, proved the holiness of his mission with great effect, by the total massacre of over 10,000 Egyptians under the command of Colonel Hicks. The Mahdi's chief henchman, Osman Digna, successfully initiated a campaign to imitate his master by carrying out another massacre near Suakin, of more than half of a force of about 4,000 men, under Valentine Baker. With such established prestige, every brigand in the Sudan joined the Mahdi and produced a formidable army of savage raiders, with which they established a reign of terror worse than that of the Egyptians.
The British government now felt responsible for withdrawing the Egyptian garrisons spread out around the Sudan. The most suitable man they could think of for this unenviable task was Major General Charles Gordon, Royal Engineers - a man of strong character and with a fine reputation. He had previously served Egypt as Governor-General of the Sudan. Gordon was sent out in January 1884, and a month later General Sir Gerald Graham left Egypt with about 5,000 men to seize and hold the port of Suakin, on the Red Sea, and restore order in the area. Before the arrival of Sapper Ewan and the 24th Field Company in Egypt, actions were fought against the Mahdi's armies at El-Teb (29 February 1884), Tamai (13 March 1884), Abu Klea (17 January 1885) and Kirbekan (10 February 1885).
The 24th Field Company was commanded by Colonel Edward Pemberton Leach, V.C., R.E. Other company officers included:
Lieutenant Felix Denis Francis MacCarthy, R.E.

Lieutenant Charles Godby, R.E.
When John Ewan arrived at Shorncliffe, the 24th Field Company was preparing for active service in the Sudan. The company embarked for Suakin in the eastern Sudan on the 18th of February 1885 and arrived at its destination on the 7th of March. Upon its arrival, the company was placed under the Commander Royal Engineers at Suakin, Colonel James Bevan Edwards, C.B., R.E. The other Sapper units in Colonel Edwards' command at Suakin consisted of the following:
17th Field Company, Royal Engineers

10th (Railway) Company, Royal Engineers

2nd and 3rd Sections, Telegraph Battalion, Royal Engineers

Balloon Detachment, Royal Engineers

"F" Company, Madras Sappers and Miners
On the 12th of March 1885 Lieutenant General Sir Gerald Graham, V.C., a prominent Sapper officer, arrived at Suakin to take command of the expeditionary force there for operations on The Red Sea Littoral. Within seven days after the arrival of the 24th Field Company, Sir Gerald's force took to the field.
As the enemy's detachment at Hashin threatened the right flank of any column moving southwestwards against Tamai, Graham decided to begin operations by dispersing it and occupying both Hashin and Handub. After a reconnaissance on 19 March, he advanced against Hashin on the 20th with 10,000 men. The infantry reached some foothills near Hashin at 8.25 a.m., and the 17th and 24th Companies, R.E., and "F" Company, Madras Sappers and Miners, built four strong posts and afterwards a "zariba". Meanwhile, the enemy retired to a steep hill in the rear, from which they were driven after a stiff fight. Leaving a garrison of infantry to guard Hashin, and a part of the 17th Field Company to improve its defences, Graham then returned to Suakin.
Having dealt with the force at Hashin, Graham turned his attention to Osman Digna's stronghold at Tamai. For reasons of supply it was necessary to establish intermediate posts in that direction. On March 22nd he dispatched a force under Major General Sir John McNeill, V.C., K.C.B., towards Tamai with orders to make and garrison two zaribas, one at five miles and the other at eight miles distance from Suakin. McNeill marched accordingly with two squadrons of cavalry, two battalions of British infantry (Berkshires and Royal Marines), three battalions of Indian infantry (15th Sikhs, 17th Bengal Native Infantry, and 28th Bombay Native Infantry), four Gardner machine-guns manned by the Royal Navy and the 24th Field Company, R.E. under Colonel Leach. For some reason Sapper Ewan was not with the company at this time, probably having been assigned on detached service to another unit or left behind at Suakin. He probably counted himself lucky to be away from his company on that fateful day, for it he missed the fearful Battle of Tofrek [17].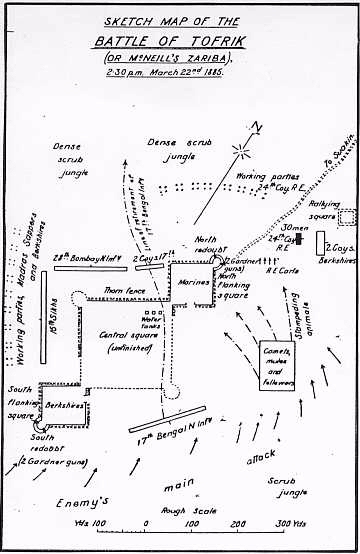 The battle at Tofrek on 22nd March 1885 was finished in 20 minutes, a brief period crowded with instances of cool bravery, wild bewilderment, and fanatical desperation. When the smoke cleared away the place was a shambles. Dead bodies of men and animals lay in heaps everywhere on the battlefield. The British losses amounted to about 100 men killed and 140 wounded, including 14 Non-Commissioned Officers and Sappers of the 24th Field Company. At least 1,000 Sudanese lay motionless around and within the zariba. The Sudanese fought, as usual, with extraordinary courage. Braving the British rifle fire, charging on to the points of their bayonets, hurling themselves into or over the thorny defences, they showed an absolute disregard for death. The action at McNeill's zariba, as it is sometimes called, was a bloody affair, but it had good results for the British. The Sudanese began to lose confidence in Osman Digna, who had told them that the British bullets were made of water and could do them no harm. News of the battle was telegraphed to Suakin, and Graham rode out on the 23rd of March at the head of a strong force that safeguarded the position.
After a short rest the 24th Field Company began clearing the battlefield and rebuilding the zariba on a smaller scale to suit a garrison of one battalion. Sapper Ewan may have returned to the company while this work was being done. If he did, he saw first hand the carnage that took place on the 22nd. Water was scarce and the heat was terrific. Ewan and the other men of the company suffered considerably from the hot work. Men of the unit collapsed in dozens from sunstroke.
On the 2nd of April 1885 General Graham marched with a strong force from Suakin to attack Osman Digna at Tamai, taking with him the 17th Field Company, and picking up the 24th Field Company and the other troops at Tofrek, so that he was able to continue with 8,000 fighting men and 4,000 animals. Before dusk he halted, and his engineer troops searched for water and assisted the infantry in making a second zariba. On the 3rd of April he advanced again towards the villages at Tamai which had long been Osman Digna's headquarters. It soon became evident that there would be no resistance, and the force proceeded through the villages, which were found to be deserted. The wells in the villages were almost dry. This failure of the water supply may have been the cause for Osman Digna's departure, but it also precluded any further advance by Graham. He destroyed the enemy's huts and stores and retraced his steps to Suakin, arriving there on the 4th April. Offensive operations were now practically at an end. Most of the tribes had deserted Osman Digna, and the elusive Sudanese leader was believed to be well on his way to Sinkat. It was safe to devote particular attention to pushing construction of the Suakin-Berber railway, so the garrison of Tofrek was withdrawn, and Handub, ten miles west of Suakin, was occupied without opposition on 8th April. The 24th Field Company set about constructing a portion of the embankment for the Suakin-Berber railway line at Handub, along with a railway blockhouse.
On the 16th April General Graham's force advanced to occupy Otao. The 24th Field Company was given the task of developing the water supply for each post at Handub, Otao, and Tambuk. Sapper Ewan was involved with this work until 17th May 1885 when General Graham withdrew his entire force to Suakin. Most of the units of Graham's force departed the Sudan shortly after their return to Suakin. Only a small garrison, including Sapper Ewan and the rest of the 24th Field Company, remained in the city. Finally, on 4th of June 1885 the 24th Field Company embarked for Cairo, arriving there on the 8th of June.
Sapper Ewan served at Cairo for almost a year when, on the 28th of April 1886 he applied to purchase his discharge in accordance with the provisions of Article 588 of the Royal Warrant dated the 10th of June 1884 [18]. This request was made to Captain Dickinson who was then the Officer Commanding the 24th Field Company.
For his service in the Sudan and Egypt in 1885 and 1886, Sapper Ewan was awarded the Egypt 1882 Medal with clasp [SUAKIN] and the Khedive's Star dated 1884-1886 [19].


6. PROMOTIONS AND CONDUCT
a. Promotions: John Ewan did not receive and promotions during his time in service.
b. Conduct: Sapper Ewan was granted a Good Conduct Badge and Good Conduct Pay at the rate of 1.d per day on the 18th of October 1885 [20]. At the time of his discharge from the Army in 1886, his conduct was declared to be "Very Good" during his period of service.
7. EDUCATION AND QUALIFICATIONS
a. Education: Sapper Ewan earned a 4the Class Certificate of Education on the 6th of December 1883 while in training at Brompton Barracks [21]. He was certified by the Sub-Inspector of Army Schools as being able to read (Standard II), perform transcription (Standard II) and do notation and numeration arithmetic up to 100,000 as well as the first four elementary simple rules of arithmetic, including long division. His Certificate of Education was signed by Colonel C.E. Harvey, R.E., Assistant Commandant of the School of Military Engineering.
b. Qualifications: John Ewan earned the following qualifications during his time in service.
| | |
| --- | --- |
| Date | Qualification |
| 12 October 1883 | Stone Mason [22] |
| 23 December 1884 | Authorized Engineer Pay, Class 2 [23] |
| 10 February 1885 | Authorized Engineer Pay, Class 1 |
8. MEDICAL INFORMATION
No medical information was found in the service papers of Sapper Ewan.
9. MARRIAGE AND PERSONAL INFORMATION
Sapper Ewan was not married during his time in the Army.
10. DISCHARGE
Sapper John Ewan was discharged from the Army at Cairo, Egypt at his own request on payment of £18.00 under Article 588 of the Royal Warrant of 10 June 1884. His discharge was effective on the 25th of May 1886. Sapper Ewan's total service was reckoned as shown in the tables below:
| | |
| --- | --- |
| Location | Period of Service |
| Chatham, Kent | 13 October 1883 to 10 February 1885 |
| Shorncliffe, Kent | 10-17 February 1885 |
| Sudan | 18 February 1885 to 7 June 1885 |
| Egypt | 8 June 1885 to 25 May 1886 |
| | |
| --- | --- |
| Location | Period of Service |
| Home Service | 1 year and 127 days |
| Service Abroad | 1 year and 99 days |
| Total Service | 2 years and 226 days |
At the time of his discharge Sapper Ewan's service papers indicate that he was in possession of one Good Conduct Badge and a 4th Class Certificate of Education. He indicated that his intended place of residence upon returning to the United Kingdom would be Ballater Village, Aberdeen, Scotland.
11. POST SERVICE LIFE
John Ewan returned to Ballater where presumably he practiced his trade as a Mason. At some point in time after he returned home, he learned of his entitlement to the Khedive's Star for his service in the Sudan. On the 10th of August 1906 he wrote to the Royal Engineers Record Office at Chatham requesting that he be issued the medal. He received a reply dated the 17th of August 1906 from Lieutenant Charles Waldron, R.E., the Assistant Superintendent of R.E. Records. Lieutenant Waldron informed Ewan that his request had been forwarded to the War Office for consideration. John Ewan was residing at 58 Urquhart Road in Aberdeen at this time. The War Office was quick to reply to Ewan's request and he was issued his Khedive's Star on the 20th of August 1906 by the Director of Recruiting & Organization.
REFERENCES
Books
1. CONOLLY, T.W.J. Roll of Officers of the Corps of Royal Engineers From 1660 to 1898. The Royal Engineers Institute, Chatham, Kent, 1898.
2. GRIERSON, J.M. Scarlet Into Khaki: The British Army on the Eve of the Boer War. Greenhill Books, London, 1988.
3. LETTS, C. Roadbook of Britain. Charles Letts and Company Limited, London, 1977.
4. MERRIAM WEBSTER. Geographical Dictionary, Springfield, MA, 1997.
5. PORTER, W. The History of the Corps of Royal Engineers. Volume II. The Institution of Royal Engineers, Chatham, Kent, 1952.
6. SANDES, E.W.C. The Royal Engineers in Egypt and the Sudan. The Institution of Royal Engineers, Chatham, Kent, 1937.
7. SKELLEY, A.R. The Victorian Army at Home: The Recruitment and Terms and Conditions of the British Regular, 1859-1899. McGill-Queen's University Press, Montreal, 1977.
Computer Software
1881 British Census and National Index. The Church of Jesus Christ of Latter-day Saints, Salt Lake City, 1999.
a. FHL Film 0203457, GRO Ref Volume 201, Enumeration District 4, page 14.

b. FHL Film 0203452, GRO Ref Volume 175, Enumeration District 1, page 9.

c. FHL Film 0203452, GRO Ref Volume 170, Enumeration District 5, page 18.

d. FHL Film 0203449, GRO Ref Volume 168-2, Enumeration District 23, page 43.
Documents
1. Personal papers of John Ewan consisting of the following original documents:
a. Certificate of an Entry of Birth dated Glenmuick, Aberdeen, October 11, 1858.

b. Letter of Indenture Between John Ewan and John Burgess & Sons, dated 8 December 1877.
2. Military papers of John Ewan consisting of the following original documents:
a. Account Book (Army Form B.50).

b. Monthly Settlements, Clothing Account (Army Form B.51).

c. Register of Rate of Engineer Pay.

d. Fourth Class Certificate of Education.

e. Parchment Certificate of Discharge.

f. Letter from R.E. Records Office to John Ewan dated 17 August 1906.

g. Letter from War Office to John Ewan dated 20 August 1906.
Internet
MICROSOFT EXPEDIA MAPS. http:\www.expediamaps.com
ENDNOTES
[1] A check of the Public Record Officer at Kew found that no service papers were on file in WO97 for Sapper Ewan.
[2] John Ewan's birth registered in the Parish of Glenmuick in the County of Aberdeen on the 5th of October 1858. His birth certificate was issued on the 11th of October 1858 and on the back of the certificate is a note indicating that he was baptized by a Minister in the presence of Robert Calder and Isabel Robb. The Ewans were Presbyterians.
[3] In 1974 the British Government reorganized the counties of Scotland. Twelve regions were created from the original 34 counties. The county of Aberdeenshire is now part of Grampian, which along with Aberdeenshire also contains the old counties of Kincardine, Banff and most of Moray.
[4] Merriam Webster Geographical Dictionary.
[5] This letter of indenture was handwritten in ink on a 1½-penny sheet of parchment paper. The letter bears two stamps, one dated Scotland 23-8-75, and the other dated Aberdeen 4-11-75. Presumably these are the dates that the letter was recorded at various record offices. The letter is impressed with a seal for two shilling six pence, presumably the cost of preparing the letter.
[6] Throughout the document John Ewan's name and Archibald Ewan's name is spelled Ewen. At they end of the document they signed their names "Ewen." It is strange that given the legal nature of the letter no one bothered to correct the misspelling of their names.
[7] In Scottish law – providers of assurance against loss.
[8] Stg – Sterling.
[9] The 1881 Census shows that a Donald Farquharson lived with his two sisters in Glenmuick Tullich & Glengairn, Aberdeen. He worked as the Sherriff Officer Letter Carrier and Post Office Assistant at Albert Memorial Hall in Glenmuick.
[10] James Ewan was John's brother.
[11] According to modern maps, it is not much more than that today.
[12] Statistics obtained from the 1881 British Census Records of Aberdeen Union Workhouses.
[13] See Age and Physical Requirements for Soldiers in the British Army and the Corps of Royal Engineers (Victorian Period).
[14] John Ewan was tall for men of this period, however he seems to have grown an inch between the time of this enlistment and the time of his discharge. This unlikely growth rate for a man 26 years of age can be explained by the inaccuracy of record keeping during the Victorian period.
[15] See Periods of Enlistment for the Corps of Royal Engineers.
[16] See Engineer Recruit Training.
[17] Details of the Battle of Tofrek are provided in a narrative dealing with the service of 15744 Corporal George Andrews who was present at the battle. Corporal Andrews' medals also are in the author's collection.
[18] See Discharge from the Army by Purchase.
[19] Both of these medals are in the author's collection.
[20] See Good Conduct Pay.
[21] See Certificates of Education.
[22] He served a four-year apprenticeship to qualify as a Mason prior to entering the Army.
[23] Extra Engineer's Pay existed in seven classes from 4/- to 2/-.