LIEUTENANT GENERAL
SIR GERALD GRAHAM, V.C., G.C.B., G.C.M.G.

by
Lieutenant Colonel Edward De Santis ©2008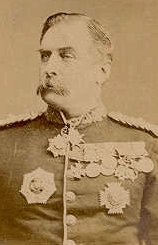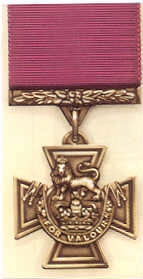 The Victoria Cross for Valour
Gerald Graham was born at Acton, London on 27 June 1831, the only son of R.H. Graham, M.D. of Eden Brows, Cumberland, and Frances Oakley. He was educated in Dresden, Germany, Wimbledon, Edinburgh and at the Royal Military Academy, Woolwich.
Graham was commissioned in the Royal Engineers in 1850. The following is a record of his promotions:
RANK

REGIMENTAL DATE OF RANK

ARMY DATE

OF RANK

2nd Lieutenant

19 Jun 1850

Lieutenant

17 Feb 1854

2nd Captain

28 Oct 1858

Captain

04 Aug 1864

Major

05 Jul 1872

22 Nov 1859

Lieutenant Colonel

27 Sep 1876

15 Dec 1861

Colonel

15 Feb 1869

Major General

19 Oct 1881

Lieutenant General

21 May 1884
Graham landed with the British forces in the Crimea on 14 September 1854. He was present at the battles of the Alma and Inkerman, and served about a hundred times in the trenches before Sebastopol. He was twice wounded during the war.
Lieutenant Graham was awarded the Victoria Cross for his actions on 18 June 1855 when he, accompanied by Sapper J. Perie, showed determined gallantry at the head of a ladder party at the assault on the Redan at Sebastopol. He also went out on numerous occasions to bring in wounded officers and men. His award of the Victoria Cross was published in the London Gazette of 24 February 1857.
Graham also served throughout the China War of 1860 and was wounded at the taking of the Taku Forts. He was also present at the entry into Pekin.
During the Egyptian War of 1882, Graham commanded a Brigade and fought in the battles at Kassassin and Tel-el-Kebir. He later commanded the expedition to Eastern Sudan in February 1884 and fought the battles of El-Teb and Tamai. He also commanded the expedition to Suakin in 1885.
Graham married Jane, the daughter of G. Durrant of Elmhall, Suffolk, and widow of the Reverend G.B. Blocker, Rector of Rudham, Norfolk. He was Life Governor of London University and a member of the United Services Club. His recreations included golf and chess.
Lieutenant General Graham retired from the Army on 14 June 1890. On 10 March 1899 he was appointed Colonel-Commandant of the Corps of Royal Engineers. He died at Bideford in Devonshire on 17 December 1899.
REFERENCES:
1. CONOLLY, T.W.J. Roll of Officers of the Corps of Royal Engineers From 1660 to 1898. The Royal Engineers Institute, Chatham, Kent, 1898.
2. WHO WAS WHO, 1897-1916. A. & C. Black, Limited, London, 1920.
3. The Register of the Victoria Cross. This England Books, Cheltenham, 1988.