LIEUTENANT THE HONORABLE
HENRY LYLE MULHOLLAND
Royal Engineers
by
Lieutenant Colonel Edward De Santis ©2008
The Baron Dunleath (Henry Lyle Mulholland) of Ballywalter, County Down, Justice of the Peace for County Down, High Sherriff 1884, sometime Lieutenant, Royal Engineers, and formerly Major, 5th Battalion of the Royal Irish Rifles. Formerly Member of Parliament for North Londonderry, 1885-1895. Bachelor of Arts, Oxford University.
Born on the 30th of January 1854. Commissioned as a Lieutenant in the Royal Engineers on the 29th of April 1873. Served in the Curragh, Ireland in 1877. Relinquished commission in 1877. Married on the 28th of July 1881 to Norah Louisa Fanny, daughter of the Honorable Somerset Ward. Five children:
Sons
Andrew Edward Somerset, born 20th of September 1882. Lieutenant, Irish Guards.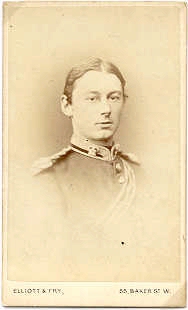 Charles Henry George, born 19th of August 1886. Lieutenant, 11th Hussars.
Henry George Hill, born 20th of December 1888.
Godfrey John Arthur Murray Lyle, born 3rd of October 1892.
Daughter
Eva Norah Helen, born 4th November 1884
Succeeded his father, John Mulholland, as second Baron Dunleath in 1895.