82053 SAPPER
WILLIAM ARTHUR HOLLOWAY
Royal Engineers
by
Lieutenant Colonel Edward De Santis
Ó 2003. All Rights Reserved.
William Arthur Holloway was born at Whitchurch in Hampshire. Prior to the Great War of 1914-1918, Holloway resided in Dartford, Kent.
Holloway enlisted as a Sapper in the Royal Engineers for service in the Great War. After his enlistment, he was assigned Regimental Number 82053 and posted to the 102nd Field Company, Royal Engineers with the 23rd Division.
The 102nd Field Company was deployed to France and took part in the following major actions:
Albert (The Somme) 1st to 13th July 1916
Bazentin 14th to 17th July 1916
Pozieres 23rd July to 3rd September 1916
Flers-Courcelette 15th to 22nd September 1916
Morval 25th to 28th September 1916
Le Transloy 1st to 18th October 1916
Messines 7th to 14th June 1917
William Arthur Holloway died on the 6th of July 1917, of wounds received at the Battle of Messines. He has no known grave. His death is commemorated at the Railway Dugouts Burial Ground at Zillebeke, on Special Memorial C.19.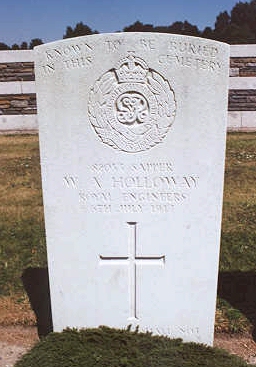 For his services in the Great War, Sapper Holloway was awarded the British War Medal and Victory Medal.

SOURCES:
HMSO. Soldiers Died in the Great War.