1862329 Warrant Officer Class II
ROBERT GEORGE EDWARD WIFFEN
Royal Engineers
by
Lieutenant Colonel Edward De Santis
Ó 2002. All Rights Reserved.
1. INTRODUCTION
Unless otherwise noted, the details supplied in this narrative were extracted from various issues of The Sapper magazine between June 1929 and February 1984. The complete list of magazine issues consulted is listed under REFERENCES at the end of this narrative.
2. EARLY LIFE AND FAMILY INFORMATION
Robert George Edward Wiffen was born at 71 James Street in Gillingham, Kent on the 31st of May 1907 [1]. His parents were Robert Sydney Wiffen and Clara Wiffen (nee Hughes) [2]. According to young Robert's birth certificate, his father was an Army Pensioner. Since Robert was born in Gillingham, a contiguous town to Chatham where the Headquarters of the Royal Engineers was located, it seemed probable that Robert Sydney Wiffen also served in the Royal Engineers. A check of service papers in the Public Record Office at Kew and a copy of The Sapper for March of 1956 did verify that a Robert Sydney Wiffen served as a senior non-commissioned officer in the Royal Engineers, attaining the rank of Company Sergeant Major. Since young Robert was born after his father left the Army, his birth is not noted in CSM Wiffen's service papers. Other strong evidence, however, leads to the conclusion that R.E.G. Wiffen was the son of CSM R.S. Wiffen.
According to his service papers, 20941 Company Sergeant Major Robert Sydney Wiffen was born in Romford, Essex [3]. He enlisted in the Royal Engineers on the 4th of May 1886 at the age of 19 years and 2 months. CSM Wiffen served at Chin Lushai in 1889 to 1890 and in Waziristan from 1894 to 1895 [4]. He married Clara Hughes on the 5th of July 1902 and they had two children while he was serving in the Army, Kate E. born on the 28th of May 1903 and Jennie A. born on the 15th of August 1904 [5]. CSM Wiffen apparently took his discharge from the Army in May of 1907 after completing 21 years of service [6]. Clara Wiffen was nine months pregnant when he was discharged, as young Robert was born on the last day of May 1907.
Robert Sydney Wiffen had an older brother named Frederick who had immigrated to Australia [7]. He also had two sisters, Kate and Minnie, both of whom lived at 4 Holly Street, Cavendish Square in West London. Robert Sydney Wiffen died in Sittingbourne, Kent on the 15th of December 1955 of a heart ailment. He was 69 years old at the time of his death.
Wiffen appears to be an Essex name, as service papers of the Great War period show that many men with that surname served in the Essex Regiment and Essex Yeomanry [8]. The following individuals are men by the name of Wiffen who also served in the Royal Engineers:
Place of Birth:

Northfleet, Kent

Date of Birth:

March 1877

Date of Enlistment:

2 March 1900

Age on Enlistment:

23 years and 8 months

Trade:

Carpenter

Residence:

Shepherd's Bush, Middlesex

Length of Service:

Bought himself out after 1 year and 321 days.

Mother:

Edith Ellison of Hadleigh, Essex

Sister:

Minnie Wiffen of Gifford, Essex

Great War Service :

Re-enlisted in the Royal Engineers at Chatham, Kent. 13113 Corporal, posted to the 56th Field Company, R.E. Killed in action in France and Flanders on 23 August 1914. Initially listed as missing in action after the retreat from Mons.
Harry John Wiffen apparently was an orphan or perhaps the son of an unwed mother by the name of Edith Ellison [10]. The 1881 British Census shows that a 4-year old boy named Harry John Wiffen was living with George Upson, age 59, a beerhouse keeper, and his wife Mary Ann Upson, age 54. Their dwelling was the Waggon & Horses, a local pub in Hadleigh, Essex. The Upsons had a 12-year old son, Lewis Sydney, also living with them. A 23-year old man named James Larrot Wright, an agricultural labourer, was a boarder in the Waggon & Horses and two other adults, Charles and Ada Postans, were lodgers at the Waggon & Horses in 1881. Charles Postans, age 36, was a non-practicing veterinary surgeon and Ada Postans, age 38, was his wife [11].
No connection could be made of any family relationship between Harry John and Robert George Edward Wiffen. What is interesting to note is that H.J. Wiffen had a sister named Minnie and R.E.G. Wiffen had an aunt named Minnie. Minnie was not all that common a name, so there may have been some connection linking their family trees.
While there is a remote possibility that H.J. Wiffen was related to R.G.E. Wiffen, the only connection made to the subject of the research by the author with regard to the following two men is the fact that they are named Wiffen and that they served in the Royal Engineers.
26506 Sapper William James Wiffen [12]

Place of Birth:

Portsmouth, Hampshire

Date of birth:

May 1874

Date of Enlistment:

31 May 1892

Age on Enlistment:

18 years

Trade:

Groom

Father's Residence:

Southsea, Portsmouth and Battersea, London

Length of Service:

Discharged on 30 May 1904 with 12 years total service, all at home.
WR/200095 Acting Lance Corporal George G. Wiffen [13]

Place of Enlistment:

London

Residence:

Kentish Town, Middlesex

Unit:

10th Transportation Stores Company, R.E. Railway Troops

Date of Death:

3 August 1918 at home
3. ENLISTMENT AND TRAINING
Robert George Edward Wiffen enlisted in the Royal Engineers as a Boy Soldier on the 3rd of April 1922 at the age of 14 years and 11 months [14]. His enlistment as a Boy Soldier is further evidence that his father was also serving in the Royal Engineers. It was a common occurrence for sons of senior non-commissioned officers to enlist as Boy Soldiers in the same regiment or corps as their fathers. Young Robert was given Army Number 1862329 and was posted to Brompton Barracks at Chatham, Kent where he served until he was old enough to join the ranks in 1925.
Wiffen attained the age of 18 years on the 31st of May 1925 and entered the ranks as a Sapper. He spent an additional year at Chatham where he was trained in the skills of an engineer soldier. At the completion of his training in 1926, Sapper Wiffen was assigned to the 20th Fortress Company, Royal Engineers then serving in Aden. He was to spend 6 long years in Aden combating the heat, the repetitious routine and the boredom.
4. ASSIGNMENTS AND CAMPAIGN SERVICE
Aden (1926-1932)
The 20th Fortress Company was commanded by Major H.A. Urquhart, R.E. The company was stationed in a rocky and barren area of Aden where extremely hot weather was always a problem and prickly heat was a constant torment for the men. Wiffen soon found that he and the other men of the company had little to do in this god-forsaken terrain except train and enjoy the zoo they had established consisting of local animals.
One year was much like another to soldiers serving in Aden in the 1920's and 1930's. The following is a typical example of life in the Aden Garrison during the years from 1929 to 1931. In April of 1929 Major Urquhart left the company and Lieutenant D.S. Blunt, R.E. assumed command. During this period the company had a welcomed break and went up country to visit El Khadad during the Easter Holidays. An outbreak of smallpox in 1929 required all company personnel to be revaccinated. Training continued in full swing during the year, but most of the local bazaar and an area known as the Crater were placed off limits to the men because of the smallpox epidemic.
The Officer Commanding Military Forces in Aden, Lieutenant Colonel G.O. Boase, C.B.E., R.A. inspected the company on the 17th of May 1929. The company paraded early in the morning on the Miadam for inspection and the March Past. Lieutenant Colonel Boase was very pleased with the company's turn out. Later in the day he visited the unit's workshops, barracks and electric light stations. Sapper Wiffen and all the other men of the company were fully engaged in trades testing as well during the month of May.
In June of 1929 the Aden Garrison held a parade in honour of the King's birthday and the 20th Fortress Company took part in the celebrations. In September the port of Aden opened up again after two months quarantine due to smallpox. During this month the company put a new roof on the unit's workshops and offices and all buildings in the company area were painted. The company then fired the annual musketry course in October.
Captain T.A.N. Bent, R.E. arrived in Aden in April of 1931 as the new commander of the 20th Fortress Company. He relieved Lieutenant Blunt who returned to England. In May the men of the company were involved again with their trade tests and in August they had a welcomed break in routine. The company took a trip to Lahej [15] and El Khadad where they visited the palace and gardens of the Sultan of Lahej.
The annual musketry course was fired in October of 1931 at Gold Mahur Range and Sapper Wiffen was awarded 1st Prize with a score of 39. Fieldworks training followed for the company immediately after the musketry course.
Porton (1932-1934)
In March of 1932 Sapper Wiffen was posted to Porton in Wiltshire where he joined the 58th (Porton) Company, Royal Engineers at the Porton Chemical Defence Experimental Station. This unit was part of the Southern Command at Bulford in the 3rd Division Area. Wiffen's officers included Lieutenant Colonel J.F. Phipps, R.E. who held dual positions as Officer Commanding the 58th Company and Second in Command of the Chemical Defence Experimental Station. Two other Sapper officers, Lieutenant J. O'Dwyer, R.E. and Lieutenant C.A. Swetenham, R.E. also were assigned to the 58th Company. At the time of Wiffen's arrival in the company, the unit was just completing the construction of a Technical Record Store for the Chemical Defence Experimental Station. The company's mission was to support the Station with any required engineer works.
In addition to the support it provided to the Experimental Station, the 58th Company was required to train to maintain its proficiency for service during wartime. Musketry training, trades testing and three weeks at the Wyke Regis Bridging Camp each year were undertaken to this end.
The establishment of the 58th Company appears to have been rather flexible and in July of 1932 the unit was reduced in strength to only 65 Other Ranks. Sapper Wiffen was one of the men who remained with the company. He re-engaged to complete 21 years of service in May of 1933, probably in anticipation of his promotion to Lance Corporal, which he received on the 7th of June. He continued on with the 58th Company after his re-engagement.
By January of 1934 Lieutenant R.G. Gregory, R.E. had joined the company and in February 1934 the 58th Company worked on the construction of a Container Store at Porton in continued support of the operations of the Experimental Station. The strength of the company, however, continued to wane and by April of 1934 Lieutenant Colonel Phipps and Lieutenant Gregory were the only officers still with the unit. Lieutenant Swetenham had left for India.
In August of 1934 a detachment of the now depleted 58th Company was sent to Charlton Park to work with the 56th Field Company to prepare a camp for an upcoming training exercise. In September Captain A.J. Kennedy, R.E. joined the 58th Company from his previous posting at Shorncliffe, and the detachment from Charlton Park returned to Porton.
Aldershot and Blackdown (1934-1940)
Lieutenant Colonel Phipps left the 58th Company in October of 1934 and Lance Corporal Wiffen was posted to Aldershot that same month. Upon reporting for duty at Aldershot, Wiffen was assigned to "C" Company of the 1st Anti-Aircraft Searchlight Battalion at Blackdown in Hampshire under the command of Major O.J. Marstrand, M.C., R.E. The Officer Commanding the 1st Anti-Aircraft Searchlight Battalion at that time was Lieutenant Colonel M.F. Grove-White, D.S.O., O.B.E., R.E. The 1st Anti-Aircraft Battalion was the only Regular Army anti-aircraft searchlight unit on the Royal Engineer establishment at that time. The details of Wiffen's service with this unit are not known; however, the reader can get a good idea of the work of this unit by reading Searchlights in the Corps of Royal Engineers by Brigadier B. Chichester-Cooke, CBE, TD, DL [16].
At the time of Wiffen's assignment to the battalion the unit formed part of the Aldershot Command. Other key officers of the battalion included [17]:
Lieutenant Colonel G. le Q. Martel, DSO, MC, p.s.c. (Additional)

Captain T. Kimber (Adjutant)

Captain R.P.A.D. Lithgow (Headquarters Wing)

Major K.D. Yearsley, MC ("A" Company)

Major K.I. Gourlay, DSO, MC ("B" Company)
Based on published information it is known that the 1st Anti-Aircraft Searchlight Battalion had taken part in an air defence exercise of London while in camp in Essex in mid-1934 [18]. Wiffen arrived in the unit after the completion of this exercise; however, these types of exercises were held frequently and in conjunction with the Territorial Army units in the anti-aircraft defence establishment. During his period of service with the battalion he probably participated in a number of them.
While serving with "C" Company, Wiffen was appointed an Acting Corporal. By the 11th of December 1935, when "Bill" Wiffen [19] was promoted to the rank of Corporal, he was serving with "A" Company of the 1st Anti-Aircraft Searchlight Battalion at Blackdown under Major C.G.W.S. Heaton-Armstrong.
World War 2 (1940-1945) [20]
Wiffen completed 18 years of service on the 2nd of April 1940 and was awarded the Long Service and Good Conduct Medal with bar [REGULAR ARMY] [21]. He served in North Africa with the British Eighth Army from 1940 to 1943 and completed his 21 years of service in April of 1942 while in North Africa [22]. He then went on to serve in the Italian Campaign from 1943 to 1945. For his service during the Second World War, Warrant Officer R.G.E. Wiffen was awarded the 1939-45 Star, the Africa Star with clasp [8th ARMY], the Italy Star, the Defence Medal and the War Medal [23].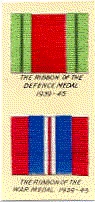 5. PROMOTIONS
Robert George Edward Wiffen received the following promotions during his time in service:
| | |
| --- | --- |
| Date of Promotion or Appointment | Rank or Position |
| 3 April 1922 | Boy Soldier |
| 31 May 1925 | Sapper |
| 7 June 1933 | Lance Corporal |
| 1 August 1935 | Acting Corporal |
| 11 Dec 1935 | Corporal |
| Date Unknown | Lance Sergeant |
| Date Unknown | Sergeant |
| Date Unknown | Staff Sergeant |
| Prior to April 1940 | Warrant Officer Class 2 |
6. DISCHARGE
WO 2 R.G.E. Wiffen was discharged from the Army after World War 2. His total service was reckoned as shown in the tables below:
| | |
| --- | --- |
| Location | Period of Service |
| Chatham, Kent | 3 April 1922 to 1926 |
| Aden | 1926 to March 1932 |
| Porton, Wiltshire | March 1932 to October 1934 |
| Aldershot and Blackdown, Hampshire | October 1934 to 1940 |
| North Africa | 1940 to 1943 |
| Italy | 1943 to 1945 |
| | |
| --- | --- |
| Location | Period of Service |
| Home Service | 12 years |
| Service Abroad | 11 years |
| Total Service | 23 years |
7. POST SERVICE LIFE
Robert George Edward Wiffen and his wife Alice Gertrude lived at 31 Hayes Road, Keyworth, Nottingham after Wiffen's discharge from the Army. They had a daughter named Catherine Jill. After his Army service, Wiffen took a job as an Ordnance Depot Policeman and he held this position until his final retirement.
R.G.E. Wiffen prepared his last will and testament on the 2nd of December 1976. His wife was still living at the time. His daughter had married and was living in Devizes, Wiltshire at the time the will was prepared.
Warrant Officer Class II Robert George Edward Wiffen died on the 18th of October 1983 en route to University Hospital on Clifton Boulevard in Nottingham. He was 76 years of age. The informant of his death was his niece, Olive May Matthews [24] of Loughborough, Leicestershire. His death was certified by John Langham, Coroner for Nottinghamshire after a post mortem without an inquest. Causes of death were listed as 1a) retro-peritoneal hemorrhage, 1b) ruptured aortic aneurysm and 1c) atheroma. His death was recorded in the Registration District of Nottingham, in the Sub-district of Nottingham, in the County of Nottinghamshire on the 19th of October 1983 by Jean N. Higgins, Deputy Registrar [25]. Wiffen's will was probated at Manchester on the 31st of January 1984 with John Anthony Pearce and Paul Stuart King of Keyworth, Nottingham acting as executors.
REFERENCES
Books
SKELLEY, A.R. The Victorian Army at Home: The Recruitment and Terms and Conditions of the British Regular, 1859-1899. McGill-Queen's University Press, Montreal, 1977.
Computer Data Bases
1. 1881 British Census and National Index. The Church of Jesus Christ of Latter-day Saints, Salt Lake City, 1999.
2. Soldiers Died in the Great War. The Naval & Military Press Ltd., Heathfield, East Sussex, 1998.
Documents
1. Certified Copy of an Entry of Birth, BXBZ 349533, Given at the General Register Office, 30 October 2001.
2. Certified Copy of an Entry of Death, QBDX 116322, Given at the General Register Office, 20 September 2001.
3. Last Will and Testament Robert George Edward Wiffen prepared at Keyworth, Nottingham, 2 December 1976.
4. Probate Register, Manchester, 31 January 1984.
Internet Web Sites
1. Commonwealth War Graves Commission.
2. Microsoft Expedia Maps.
3. MultiMaps.com
4. PARKER, S. Public Houses, Taverns & Inns in Essex, England.
Periodicals
1. The Sapper Magazine
a. June 1929, p. 292.
b. July 1929, p. 320.
c. August 1929, p. 9.
d. November 1929, p. 91.
e. December 1930, p. 124.
f. June 1931, p. 295.
g. July 1931, p. 322.
h. October 1931, p. 61.
i. December 1931, p. 120.
j. May 1932, pp. 80 and 275.
k. August 1932, p. 19.
l. June 1933, p. 312.
m. February 1934, p. 191 and 192.
n. July 1934, p. 340.
o. September 1934, p. 386.
p. October 1934, p. 416.
q. December 1934, p. 475.
r. October 1935, p. 81.
s. March 1936, p. 213.
t. June 1936, p. 283.
u. March 1956, p. 221.
v. February 1984, p. 266.
2. Royal Engineers Quarterly Lists
a. April 1932, p. xxii.
b. January 1934, p. xxii.
c. April 1934, p. xxii.
d. October 1934, p. xxii.
e. July 1935, p. xx.
f. October 1935, p. xx.
3. CHICHESTER-COOKE, B. Searchlights in the Corps of Royal Engineers. The Royal Engineers Journal, Chatham, Kent March 1985.
ENDNOTES
[1]. Birth Certificate. His birth was recorded by Mr. Walter Harris, Registrar of the Medway Registration District, Sub-district of Gillingham, County of Kent on the 3rd of July 1907, more than a month after his birth.
[2]. Ibid.
[3]. The 1881 British Census shows a Robert Arthur and Arabella Diana Wiffen as the parents of a son named Robert Sidney Wiffen. In the census, Sidney is spelled with an "i" and not a "y" as is shown on R.G.E. Wiffen's birth certificate. Robert Sydney Wiffen's military service papers show his place of birth in March of 1867 as Romford, Essex. The census shows Robert Sidney Wiffen's place of christening in January of 1870 as Brighton, Sussex. These may not be the same men. On the other hand, the parents may have moved from Romford to Brighton and the almost three-year delay between birth and christening could be explained in part by that move.
[4]. CSM Wiffen would have been entitled to the India General Service Medal, 1854-1895, for participation in both of these campaigns. His medal would have been issued with the clasps appropriate for each campaign.
[5]. R.G.E. Wiffen's death certificate shows that he had a niece named Olive May Matthews living at Westhorpe, Willoughby-on-the-Wolds, Loughborough, Leicestershire at the time of his death in 1983. Olive May Matthews was probably the daughter of one of his sisters, Kate or Jennie. The author was not able to find a family named Matthews living at a similar address in Loughborough when a search was made in October of 2001.
[6]. CSM Wiffen was recommended for the Long Service and Good Conduct Medal in Letter 60 of 1904, but the recommendation for the award was cancelled by 68/Gen No. 1795. He was later recommended for the medal again by Letter 21 of 1905 (Source: Stuart Gase, West Drayton, Middlesex).
[7]. A check for Frederick Wiffen in the Australian Vital Records Index from 1788 to 1905 produced no results.
[8]. GASE, S., West Drayton, Middlesex, December 2001.
[9]. Data obtained from service papers at the Public Record Office at Kew by Stuart Gase of West Drayton, Middlesex.
[10]. This information was uncovered by Stuart Gase from Wiffen's service papers.
[11]. PARKER, S. Website entitled Public Houses, Taverns & Inns in Essex, England, 2002.
[12]. Data obtained from service papers at the Public Record Office at Kew by Stuart Gase of West Drayton, Middlesex.
[13]. Commonwealth War Graves Commission and Soldiers Died in the Great War.
[14]. See Recruitment of Boy Soldiers.
[15]. Lahej is a town in Yemen located about 25 miles north northwest of Aden. It was the capital of a sultanate that was abolished in 1967.
[16]. The Royal Engineers Journal. The Institution of Royal Engineers, Chatham, Kent, March 1985, p. 2.
[17]. The Royal Engineers Quarterly List, July 1934, p. xx.
[18]. The Sapper, September 1934, p. 378.
[19]. Wiffen was called "Bill" by his friends as indicated by this notation on page 283 of the June 1936 issue of The Sapper under Station News of the 1st Anti-Aircraft Searchlight Group at Blackdown:
"We are asked to send the following message: To Bert Walsh and L-Cpl Keniston from Bill Wiffen: 'Have you managed to put the boat in the bottle yet? And has Bert learned to play the piano?"
Although none of Wiffen's given names was William, he is the only Wiffen listed on the Royal Engineers Regimental List during this period; hence, it is assumed that R.E.G. Wiffen went by the nickname of "Bill".
[20]. Details regarding his campaign service during the war were not available, as the author was unable to contact next of kin for access to Wiffen's service papers held at the Ministry of Defence.
[21]. This medal is in the author's collection. The medal is named to him as a Warrant Officer Class II.
[22]. Obviously he was extended to serve beyond 21 years since the war was in full swing at this time.
[23]. All of these medals also are in the author's collection.
[24]. Thought to be the daughter of his sister Kate or Jennie.
[25]. Death certificate.